The new Mobile Photo Kiosk V3 is now available!
All existing V2 shopes will be pre-imported to the new V3 system by the middle of October. You will receive an email with new links to your shop and your admin panel.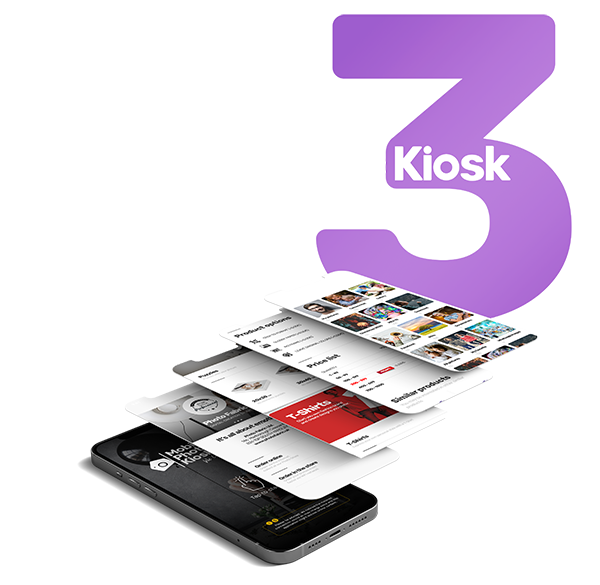 What's new in V3?
The new version of the Mobile Photo Kiosk platform was written practically from scratch, using the latest web technology, to provide you with completely new possibilities and a new quality of this solution. Creating it, we took into account almost all your suggestions and experiences from the current system.
Changes to the customer application: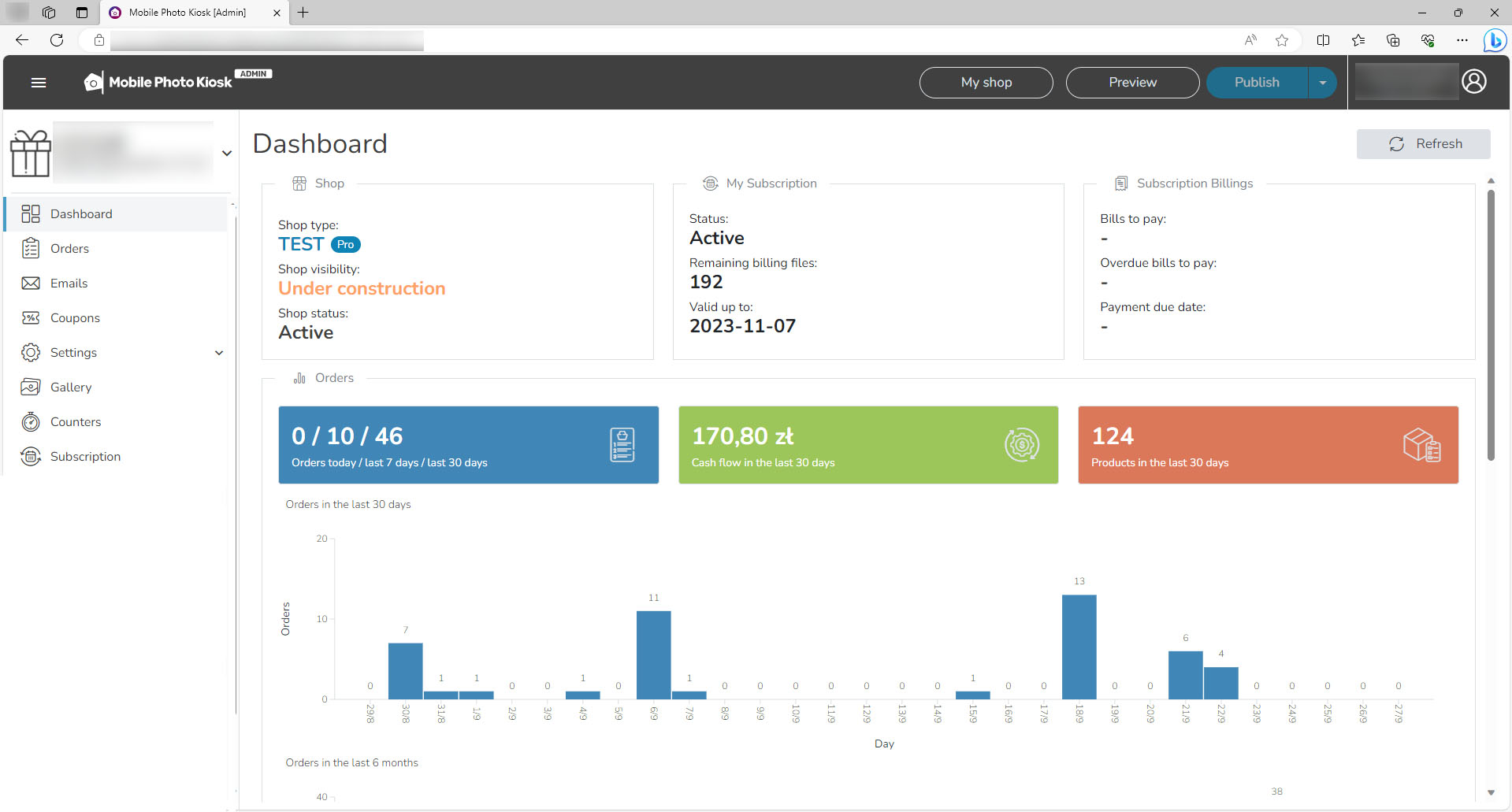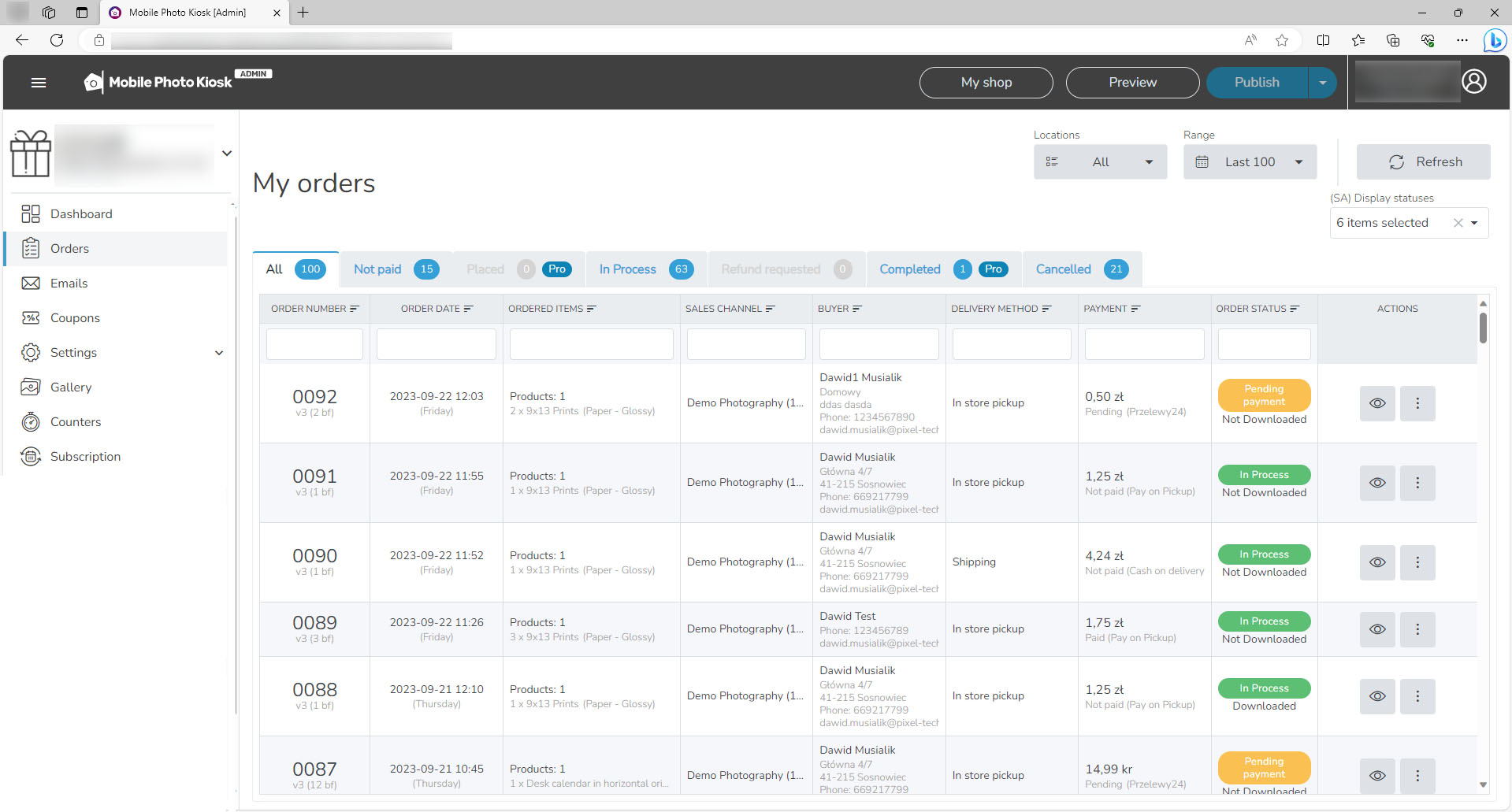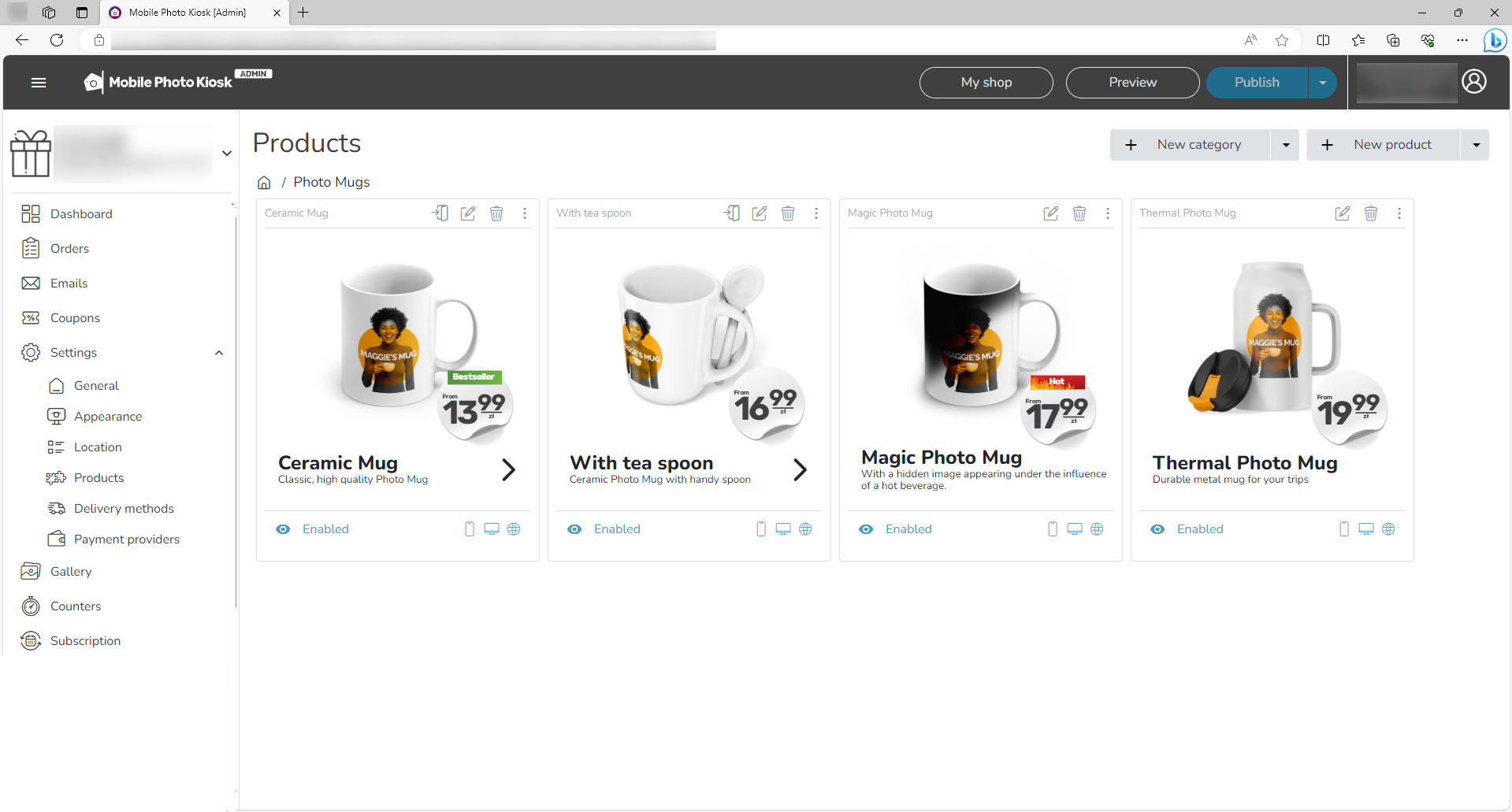 This portal allows new customers to search for your shop!
There is a search engine for this, where you can search by: name, town, distance from your shop, as well as the range of products offered and delivery methods!
(The distance functionality requires you to indicate your GPS location in the admin panel)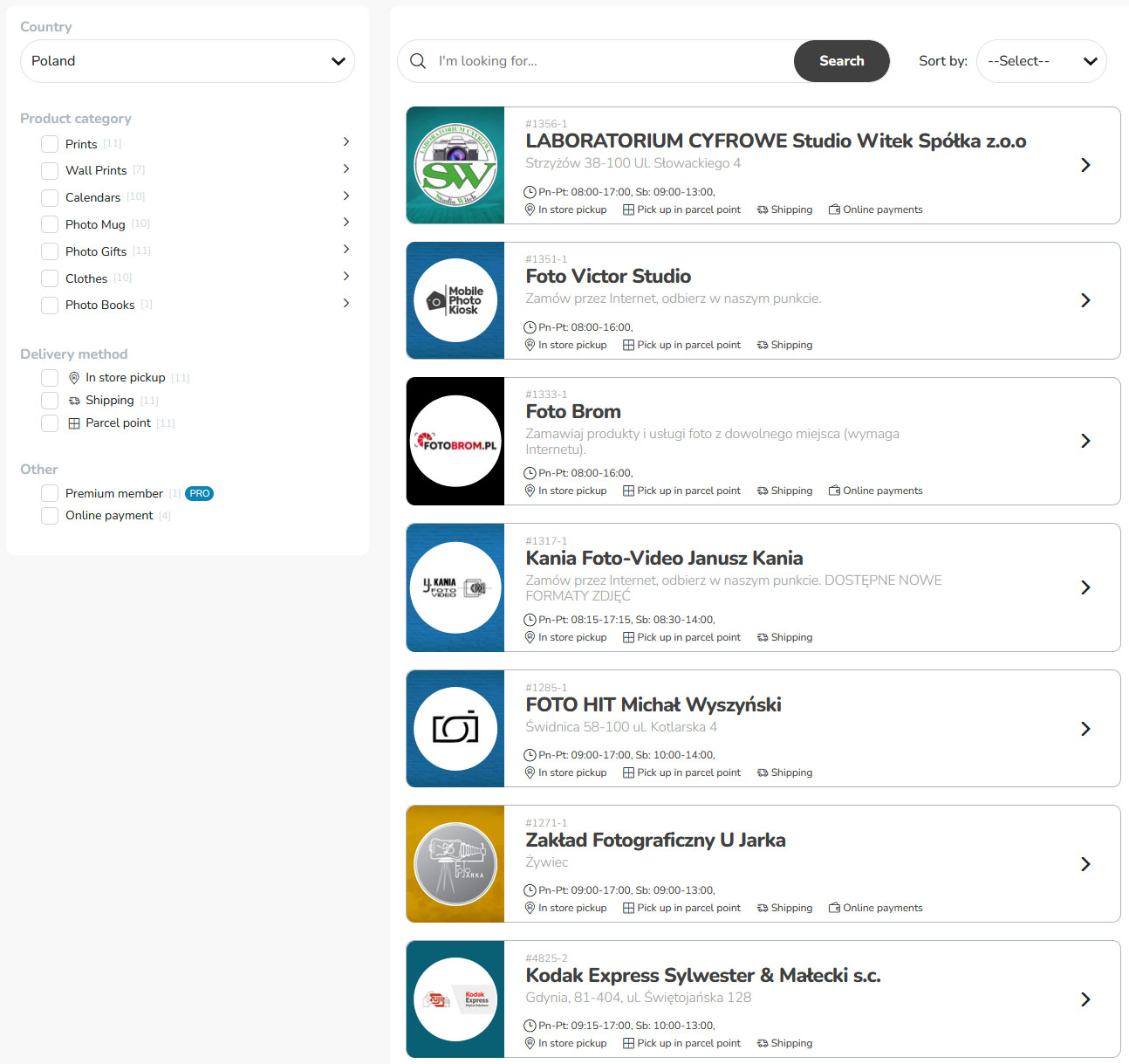 Attention!
By the middle of October 2023, the shop configuration will be imported into version V3. By then, all current Mobile Photo Kiosk shops must switch to the V3 version. We encourage you not to leave everything to the last minute.
Upgrade to V3 version
The shop configuration will be initially imported, but due to the huge differences between V2 and V3, it will need to be checked – your shop on the new website will basically be created from scratch.
Detailed plan for the near future:
Your own hosting and local channels?
The new Mobile Photo Kiosk V3 is a completely online solution, in cross-platform technology, where it's impossible to maintain the option offered so far – your own hosting and local sales channels (with an FTP server in the local network).
For this reason, these options will no longer be available in the Mobile Photo Kiosk V3.
All self-hosted subscriptions will be transferred to Pixel-Tech's hosting free of charge at the time of the switch to V3, so that you do not have to pay anything extra under your current subscription.
The native app for Android, iOS and Huawei will still be available, allowing your customers to order products using it.
The transition from V2 to V3 is a bit more complex in this case and is divided into the following stages:
Price list, new subscription periods and billing files
New functionalities and capabilities of the Mobile Photo Kiosk V3 platform have also introduced necessary extensions to offers in the price list, subscriptions and introduce the concept of Billing files (details below).
Mobile Photo Kiosk V3 is available in two versions:
Mobile Photo Kiosk Standard
It not only covers the functionality of the current V2 version, but significantly expands it in most aspects. At the same time, it is offered at the same price as the current V2 version.

prices do not include VAT
*file – means billing file
Includes everything in the Standard version, plus:
Longer file storage period (31 days instead of 7).
Manage order status and download mode.
Additional notifications to shops and customers.
White Labeling option – ability to remove the Mobile Photo Kiosk logo and markings from the shop.
Your own advertising graphics in e-mails to customers.
Possibility to send e-mails from your own SMTP server.
Option to place the shop under your own domain name*.
Payment restoration with the option to change it and retry it in the event of a failed transaction.
Marked with the PRO label on the shop list.
Early access to newly introduced functionalities.
Priority technical support.
* Requires purchasing a domain and an SSL certificate for it, and then having it managed by Pixel – Tech . An installation fee is charged for configuring the domain on the M obile P hoto Kiosk server.

prices do not include VAT
*file – means billing file
A billing file is a virtual unit that in most cases (and with functionality corresponding to Mobile Photo Kiosk V2) is identical to the uploaded physical file. With the further development of Mobile Photo Kiosk, additional services will be introduced, such as newsletter distribution, which will be 'paid for' with billing files.
| Product name | Number of files | Number of billing files |
| --- | --- | --- |
| Product without a photo | 1 piece | =  1 billing file*  |
| Product with photos that do not require processing (simple file transfer) | 1 file per product | = 1 billing file*  |
| Product dimensions max 15x20 cm @ 360 dpi  | 1 file per product | = 1 billing file*  |
| Product dimensions max 30x40 cm @ 360 dpi  | 1 file per product | = 2 billing files*  |
| Product dimensions max 50x60 cm @ 360 dpi  | 1 file per product | = 3 billing files*  |
| Larger size/density product  | 1 file per product | = 4 billing files*  |
*Regardless of the number of copies of the same product ordered.
Frequently Asked Questions (FAQ)
Here you can find answers to most popular questions.
Mobile Photo Kiosk V3 FAQ
Mobile Photo Kiosk V3 FAQ
> What does the shop website positioning look like?

The Mobile Photo Kiosk shop is a sales (transactional) platform that runs as an application in the customer's browser window (WebAssebly Technology).
The shop's website with its offer cannot be positioned directly because it is not a classic website.

We will position the home page https://mobilephotokiosk.app

> Are failed orders deducted from files or only those that physically arrived in our shop?

Orders started but not completed do not affect file consumption (they are not deducted).

Only orders that have been fully placed and are visible in the order list in the admin panel (including those with failed payment status) are charged for file usage. However, if you cancel the order for some reason (e.g. the customer calls to cancel), there is no reversal of file usage.

> Is it possible to view the file usage history somewhere, and not just how many files are left?

Yes, the full story is available in two levels. Each order contains information on how many files it has used. Additionally, in the Subscription menu there is a [ History ] button with a full history of charges and top-ups to the account.

> Does the shop have a dark mode?

Unfortunately not at the moment. Maybe someday, when there are no more urgent topics.

> Will existing QR codes work?

> Will the system generate e.g. a ready-to-print PDF with a calendar, or will I still receive 12 photos?

At this point it will still be 12 or 13 photos (depending on the product definition).

In the future, we want to introduce a more advanced editor in which you will be able to define the template of a given calendar/book and receive a document with typesetting for printing. However, it requires huge investments and time to create such functionality.

> When will you introduce a ready-made wizard for creating e.g. a photo book?

We have such plans and would like our platform to develop in this direction.

However, at this stage we are unable to provide an exact date. Much will depend on the popularity and profitability of the V3 platform, as the wizard's functionality requires huge investments in software development.

> Can a customer combine an order from two devices?

Yes, this is one of the new features in V3. You can start the order on one phone, continue on another, and then add photos from your home computer. The logged-in user maintains not only the "basket", but also a specific repository of photos used in the order. This allows you, for example, to add photos on your phone and then – while continuing to work on your computer – order other products using previously loaded photos from your phone.