PRINT MANAGER v2.0 for Citizen
Print Manager for Citizen is a FREE and exclusive desktop manager for anyone who operates a Citizen photo printer. First and foremost, it is a real-time status monitor. It tells you how many prints remain, and which format of media is installed. It tells you the printer's serial number and when there is an error with the printer or media.
Not only that, Print Manager has a brilliant hot folder feature. When you drop images into this folder, Print Manager will print them automatically using the settings you defined. Busy event photographers will really appreciate this feature.
What's more Print Manager will automatically update, and it's feature set will continue to grow. Download Print Manager for Citizen today and experience it for yourself.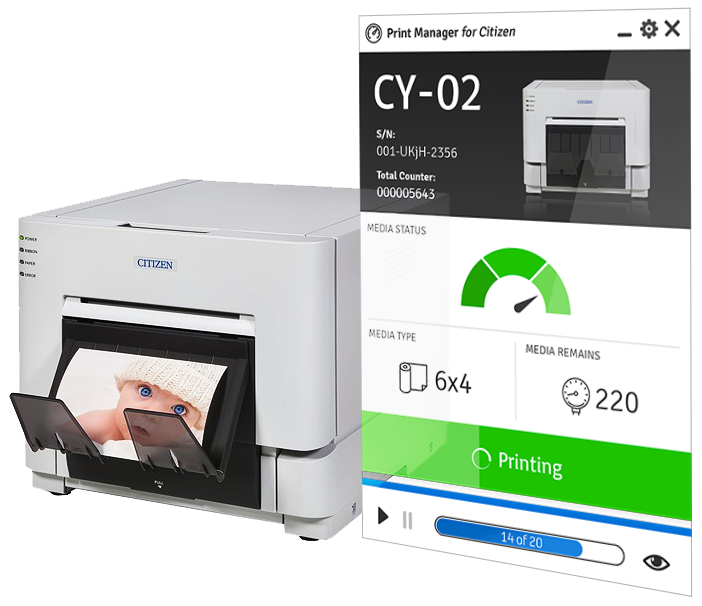 Ready to take full control?
Explore more
Explore more Pixel-Tech's software solutions that you may also like.
Specification
Here you can find relevant technical information: hardware requirements and history of released updates.
Maximum number of printers:

v. 2.1.0(05.05.2020)
| | |
| --- | --- |
| [+] | Support for CZ-01 printer |
v. 2.0.0(03.10.2019)
| | |
| --- | --- |
| [+] | Intelligent multiple image per print capability via PNG Template |
| [+] | Panorama feature for CX-02 |
| [+] | Support for CX-02W |
v. 1.0.4(30.07.2018)
| | |
| --- | --- |
| [+] | Added Greek language |
| [!] | Changed a file name pattern for a multiple printout. The current file name pattern for the multiple printout is: 'fileName_x1.jpg' where a number after '_x' means a quantity of printouts. Default value is 1. |
v. 1.0.3(17.07.2018)
| | |
| --- | --- |
| [!] | Bugfix for a problem with starting the app when a custom Hot Folder path has been setup. |
v. 1.0.2(13.07.2018)
| | |
| --- | --- |
| • | First release of the software. |